Taking Care of Our Mental Health
There's no question the pandemic has put pressures on our mental health. Substance use is on the rise, and more people – including women – are reporting increased stress, depression and anxiety.
In this workshop, a fireside chat with Manjula Selvarajah, Journalist, Syndicated Columnist and Public Speaker, and Dr. Joanne Bezzubetz, President and CEO of The Royal, will focus on leadership and resilience. What does resilience look like and how do you build it? How can you mentally prepare for the highs and lows on the road ahead?
Two breakout sessions will focus in on specific effects of the pandemic: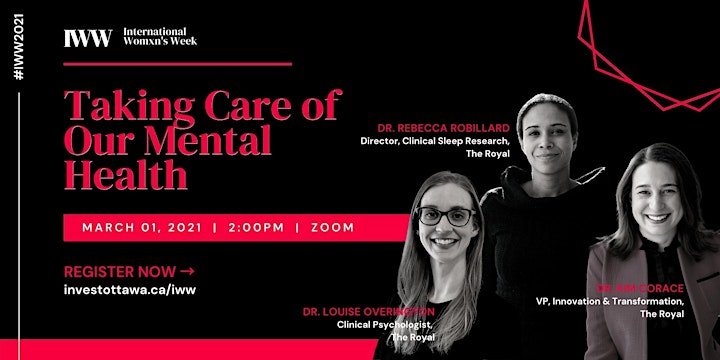 Dr. Kim Corace and Dr. Louise Overington will look at the issue of increasing substance use during the pandemic – knowing how to recognize a problem, and looking at healthy ways to cope with the daily challenges women are facing.
Dr. Rebecca Robillard will focus in on the issue of sleep. Whether the issue is falling asleep, or getting enough of it. She will bring suggestions for proper sleep hygiene, and talk about how some simple changes throughout the day can make a difference on your night.
You will also have the opportunity to join our "Open Dialogue" breakout rooms to engage with others. If you wish to participate, please ensure you are prepared to turn on your camera and audio. You also have the option to observe these breakout sessions without turning on your camera/audio.
Signed up and can't find your link – you can request it again:
https://app.venue.live/events/invest-ottawa/womxn-and-mental-health-mar-04
Helpful tips to using our event platform – Venue:
• Please register in advance so you don't miss any of the event.
• Please don't share your personal login with anyone as you may experience technical difficulties with your viewing/audio experience. The networking feature doesn't work in the mobile environment.
• For the best viewing experience, please join the event using a computer.
• Chrome is the browser of choice. You will experience technical difficulties in other browsers.
• Where's my link to login? Search your inbox with "my link to join" and you should be able to locate it – but don't forget to check your spam.
If you have have strict firewall/VPN settings with your company computer, please consider using a personal computer.
Please only use your link on one device and/or tab. The event will start flickering/freeze if open on multiple devices/tabs.