Join us for authentic and honest discussions on how allyship is key to moving the dial for inclusivity in the workplace.
Is there a place for me to advance inclusion in the workplace? This question can spark a flurry of thoughts, considerations and ideas on where to begin.
You might wonder, "What's the best role I can play? Should I attend the gender inclusion event? Am I the right person to take on a mentorship position? How do we create inclusion programs that are for everyone?" The answers require thoughtfulness, tact and deeper understanding.
Evidence shows that when allies – especially men – are deliberately engaged in gender inclusion programs, 96% of organizations see progress, compared to only 30% of organizations where allies are not engaged.
We're bringing you this conversation for the third time to help our community build a network of supportive and strategic allies who can understand their crucial role in achieving gender equity.
You're invited because we think your input is not only valuable in this conversation, it's essential.
Because we are better together.
For this important conversation, we're welcoming to the stage our event host:
And, panellists:
This special event is hosted by IWW Featured Leader Thusha Agampodi in collaboration with Invest Ottawa. It takes place at Bayview Yards and immediately follows The "F" Factor: Fueling Women Founders.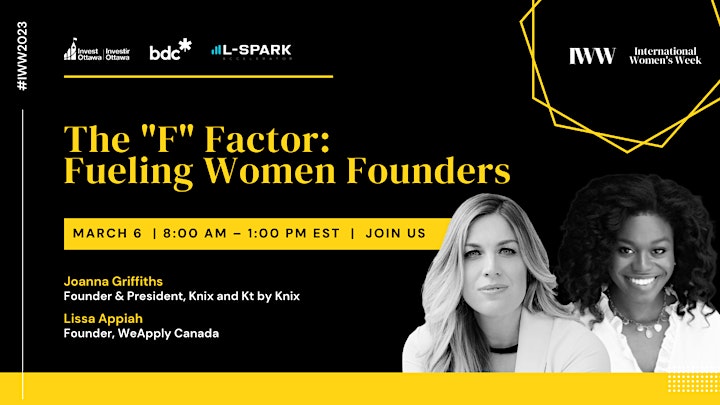 The "F" Factor: Fueling Women Founders
This event is all about frank discussions inspired by the "F" words that impact entrepreneurs the most, from fighting burnout and finding fellowship to financing, fundraising and pivoting fast.
All are welcome to attend.
Participate in person or online and hear from keynote speaker Joanna Griffiths, President & CEO of Knix.
Since launching Knix in 2013, Joanna Griffiths has built her company into one of the fastest-growing intimate apparel brands worldwide. In 2022, she successfully negotiated a $410-million acquisition of her company to global health and hygiene brand Essity — the largest publicly disclosed private sale of a direct-to-consumer company helmed by a female founder in Canada. Griffiths will walk the audiences through lessons learned from building one of the digital era's most successful and prolific mission-driven brands.
In addition to our keynote speech and fireside chat, The "F" Factor will include an update on Invest Ottawa's journey. Leaders will speak to the progress and outcomes achieved to date on the Women Founders and Owners Business Strategy. It will also include an exciting panel and opportunities to network. Learn more and register for this exciting, free event at:
Embrace equity with us on March 6th.
The "F" Factor: Fueling Women Founders and Better Together support International Women's Day's mission: to celebrate women's achievement, raise awareness about discrimination and take action to drive gender parity. These events directly align with the IWD 2023's theme of #EmbraceEquity. They are founded on the belief that we can create a world where difference is valued and celebrated, that together – and only together – we can forge women's equity, and that IWD and IWW belong to everyone, everywhere that cares and is motivated to act.
We hope you'll join us in realising our goal: to inspire, equip and empower more women leaders.