Effective advisory boards are invaluable to startups, providing expertise, connections, and strategic guidance.
Having an effective advisory board can dramatically increase a startup's chance of success. In some cases, it's the difference between success and failure.
Do you have one? Do you have the right advisors on it? Are you using it properly?
Whether this is a new concept, or you are actively seeking guidance on building your dream advisory board, this panel is for you.
We are bringing together three local founders who have built and leveraged their very own advisory boards to help you understand:
The benefits of building an advisory board
Who to have on your advisory board
How to effectively utilize a game-changing support network
Register now if you are looking to learn how to identify the right advisory board members, foster meaningful relationships, and leverage their invaluable advice to steer your tech venture towards unparalleled success.
MEET YOUR PANEL:
Moderator: Margo Crawford, Founder & Chair of Business Sherpa Group
Margo is a dynamic business leader with 20+ years of experience in diverse and challenging environments (including high tech start up, private, public, non-profit, NGO, unionized). She was recognized as a human resources leader and recipient of the Vision Award for Human Resources Professional of the Year. Margo co-founded one of Ottawa's most successful start-up companies (Meriton Networks), then played an instrumental role in raising and closing over US $75M in equity financing over 8 years; and led M&A's on both the buy and sell sides of the transaction.
Why is Margo the moderator of this panel?
Margo Crawford currently holds the position of Chair of the Governance and Nominating Committee at CHEO Research Institute and serves as the Chair of ONFE (Ottawa Network for Education). She is an active member of the Institute of Corporate Directors (ICD) Ottawa Chapter Executive Committee, having earned the ICD.D designation. Margo Crawford was previously involved with the Invest Ottawa Venture Development Sub-Committee and has contributed to several other boards. Furthermore, she has demonstrated expertise in setting up advisory boards for her own business and has assisted other businesses in establishing their own advisory boards.
Panelist: Alok Ahuja, CEO & Co-Founder, Trexity
Alok Ahuja has been working for +15 years in the software technology and e-commerce industry, and loving every second!! Having been a part of a start up that went public, to being acquired, to building new programs, processes and architecture for the fastest growing tech company on the planet, his heart will always live in this industry. After leaving Shopify, he set out to become the CEO and Co-founder of Trexity Inc; a superior last mile technology platform that enables all local merchants to outperform Amazon on delivery.
Why is Alok on this panel?
Building out the Trexity advisory board came over time as they started to get exposed to more meaningful investors and mentors. The outcome was always to have allies that could help guide the company and continue to provide new relationships and strategic opportunities. When those people appeared, they took the initiative to bring them on board and continue to grow value for their employees, investors and users alike. 'Good people attract good people'
Panelist: Pierce Ujjainwalla, CEO & Co-Founder, Knak
Pierce Ujjainwalla has decades of experience as a CEO, entrepreneur, and career marketing leader. He has lived in the marketing trenches at companies like IBM, SAP, NVIDIA, and Marketo. He founded a marketing automation consultancy Revenue Pulse and then launched Knak in 2015 as a platform designed to help Marketers simplify email and landing page creation.
Why is Pierce on this panel?
The Knak team built out their board of advisors pretty early on, mostly because they had some super talented and experienced people in their network and needed all the help they could get. They simply asked the people and made sure they were incentivized to help. Mostly, it was through the relationships Knak had built up with them over the years. That was the most important factor for them.
Panelist: Sarah Sedgman, CEO & Founder, LearnExperts
Sarah Sedgman has owned some of the largest and most profitable learning businesses in the technology industry during her career at Cognos, IBM, PTC and Kinaxis. As founder of LearnExperts, Sarah's vision is to help customers build learning programs in days, not months, through AI-enabled technology to make it easier and 67% faster to create learning.
Why is Sarah on this panel?
As Chief Customer Officer at Kinaxis, Sarah built a customer advisory board with select customers who had deep experience in supply chain, current and future trends in the industry and were advocates for the Kinaxis solution. The customer advisory board would provide guidance to Kinaxis on their overall solution, how the trends in the industry were impacting supply chain and what Kinaxis should consider for the product roadmap, and how to drive continued adoption and stickiness of the solution.
Today as CEO of LearnExperts, Sarah has built a network of advisors with deep expertise across many functions from building a software company, to creating products, go to market, how to navigate investment opportunities, finance and business. Sarah pulls on this group of advisors as the company navigates new aspects of growing a SaaS company, starting with when the company was just an idea to now where it's scaling fast, advising both herself and the team as needed.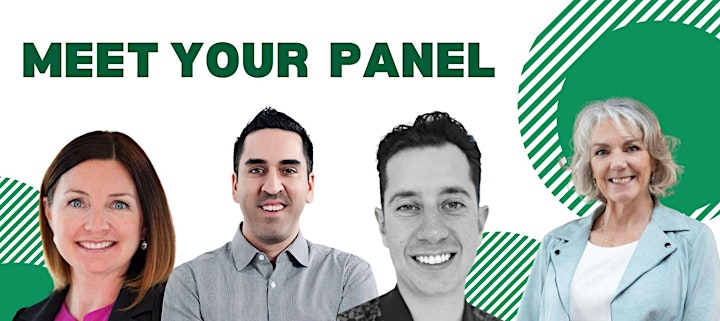 From left to right: Sarah Sedgman, Alok Ahuja, Pierce Ujjainwalla , Margo Crawford.